Foreclosure Auctions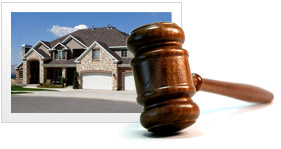 Looking where to find foreclosure auctions near you?
Go no further — Foreclosure.com has partnered with the best home/foreclosure companies in the United States.
Whether it's online or in person, we have the best foreclosure auction deals for sale right now available through one (or all) of the companies listed below. We recommend that you check them all out to find your dream house ... at half the price!
Bidding is safe, easy and rewarding. Happy hunting!
Auction.com is a leading real estate services company, selling more than $6 billion in assets nationwide in 2008 and 2009 alone. As one of the nation's most reputable and successful real estate auction companies, Auction.com specializes in helping homebuyers purchase affordably-priced foreclosure properties. Auciton.com promotes a robust, thriving real estate market by making home ownership a reality for everyone.
At Hubzu.com, we're changing the way real estate is bought and sold. Now, it can all be done online in a few simple steps. Whether you're looking for your first home, an investment property, or a vacation home, find and buy it online on Hubzu.com. We've sold over 70,000 homes in just a few years and deliver a more transparent buying experience that puts you back in control. Get Started today. www.Hubzu.com
Company Name
Address
Phone
Fax
A-1 Auctioneers
P.O. Box 1127, Alvarado TX 76009
(817) 538-2238
(817) 790-0265
A.J. Billig & Co. Auctioneers
16 E Fayette St., Baltimore MD 21202
(410) 752-8440
(410) 385-1841
Accelerated Real Estate Services
5514 Park Blvd., Pinellas Park FL 33781
(727) 772-3128
Albrecht Auction Service
P.O. Box 50 3960 W. Saginaw Rd., Vassar MI 48768
(989) 823-8835
(989) 823-2543
Alliance Bid, Inc.
15542 137th St SE, Becker MN 55308
(763) 262-5555
(763) 262-5005
American Real Estate Inc.
176 National Ave., Staunton VA 24402
(540) 885-7231
(540) 886-7566
Assiter Auctioneers
16650 Interstate 27, Canyon TX 79015
(806) 655-3900
(806) 655-3939
Atlantic Auction Company
253 Dover Road, Chichester NH 03258
(603) 798-5700
(603) 798-3694
Atlas Auctions
1900 S. Harbor City Blvd. #328, Melbourne FL 32901
(321) 473-4690
(321) 593-4653
Auction Ohio
P.O. Box 52, Alexandria OH 43011
(614) 570-2500
(614) 865-9692
Auctions International
808 Borden Rd., Buffalo NY 14227
(800) 536-1401
(800) 569-3334
Aumann Auctions Inc.
20114 IL Rte. 16, Nokomis IL 62075
(217) 563-2523
(217) 563-2111
Barr Davis Auctioneers
P.O. Box 7, Gap PA 17527
(717) 442-9221
(717) 442-9221
Bentley & Associates, LLC
7148 Bell Street, Amarillo TX 79109
(806) 376-1121
(806) 351-2284
Berning Auction
P.O. Box Q, Leoti KS 67861
(620) 375-4130
(316) 379-4607
Bolton Auctioneers
2540 Kingswood Ct., WoodBridge VA 22192
(703) 494-5062
(703) 494-2788
Breco Realty
266 W Washington St., Madison GA 30650
(706) 342-3355
(706) 342-4445
Bridges Auction & Sales Co.
P.O. Box 602, Elgin OK 73538
(580) 492-5260
Brown Auction Services
2634 County Rd. 3350, Independence KS 67301
(620) 289-4351
Buddy Barton Auctions
2871 Batdorf Rd., Wooster OH 44691
(330) 464-1375

Featured Properties

Loading...

Burns & Associates Inc.
P.O. Box 1054, SC 29160
(803) 568-5226
Butler Auctions
477 Hollow Rd., P.O. Box 124, Ardmore TN 38449
(256) 653-3267
(931) 427-8554
Campen Auctions
P O Box 140907, Gainesville FL 32614
(352) 505-0560
(352) 331-4258
CB Richard Ellis
311 S. Wacker Dr., Ste. 400, Chicago IL 60606
(312) 934-1474
Campen Auctions
P O Box 140907, Gainesville FL 32614
(352) 505-0560
(352) 331-4258
CB Richard Ellis
311 S. Wacker Dr., Ste. 400, Chicago IL 60606
(312) 934-1474
Chartwell Group
8000 Corporate Center Dr., Ste 112, Charlotte NC 28226
(704) 831-8983
(704) 248-0839
Chartwell Group
1301 East 9th St, Ste 2210, Cleveland OH 44144
(216) 839-2034
Clark Auction
965 Hwy 51 North, Madison MS 39110
(601) 317-2536
(601) 607-7721
CMS Inc.
9 Sabor De Sal Rd., St. Augustine FL 32080
(904) 461-6600
(904) 461-5600
Colbert Auctions
P.O. Box 55, Frenchmans Bayou AR 72338
(901) 517-8383
Coldwell Banker Creswell Realty
P O Box 469, Milan TN 38358
(731) 686-1172
(731) 686-1273
Cole Auctions
2313 Norwich Place, Kingsport TN 37660
(423) 288-0891
(484) 208-0891
Collins & Company
214 Timberline Dr., Georgetown IL 61846
(217) 497-7653
(217) 662-8117
Crawford Auction Service
1412 Beckley, Springfield MO 65807
(417) 399-1904
Dailey Auction Service
304 Belgrade Ave., N. Mankato MN 56001
(507) 625-7653
Deanco Auction Company
3664 S Oates St., Dothan AL 36301
(334) 677-3192
(334) 677-0149
Doan And Associates
1920 Hamlin Dr., Marietta GA 30064
(670) 421-9017
(770) 421-9017
Doerr Auction & Realty
345 Porter Ave., Vergennes IL 62994
(618) 684-6315
(618) 684-8038
Doug Davies Auctions
P.O. Box 5542, Lafayette IN 47903
(765) 449-4515
(765) 563-4515

Featured Properties

Loading...

Dream Living Realty
4800 Six Forks Rd Ste 310, Raleigh NC 27609
(919) 413-7617
(919) 278-2642
Dudley's Auction
4000 S Floara Ave., Inverness FL 34450
(352) 637-9588
Eastern Shore Auctions
6473 Cobblestone Court, Salisbury MD 21801
(410) 548-3137
Ehli Auctions
9415 Pacific Ave., Tacoma WA 98444
(253) 572-0990
(253) 238-9681
Farmers National Co.
11516 Nicholas St., Omaha NE 68154
(402) 590-2318
(402) 496-7956
Father Time Auctions
2850 Lawndell Dr., St. Louis MO 63144
(314) 962-4200
(314) 962-2573
Gaston & Sheehan Auctioneers
P O Box 856, Pflugerville TX 78691
(512) 251-2780
(512) 990-2900
Go Industry
147 Ranch Trail W., Buffalo NY 14221
(716) 688-5955
(410) 654-5876
Green Auction
P.O. Box 98, Sac City IA 50583
(712) 662-4442
Grubstake Auction Co.
P.O. Box 201667 235 Ingra, Anchorage AK 99520
(907) 274-9269
(907) 274-9270
Hodgson Farms
2334 Albany Post Road, Walden NY 12586
(845) 629-6762
(845) 778-5949
Inland Real Estate Auctions
165 N Canal St., Unit 718, Chicago IL 60606
(773) 469-1463
J. P. King Auction Company, Inc.
108 Fountain Ave., Gadsden AL 35901
(256) 546-5217
(256) 543-8036
Key Auctioneers
3930 Clarks Creek Rd Suite B, Plainfield IN 46168
(317) 509-8600
Kiko
2805 Fulton Dr. NW, Canton OH 44718
(330) 484-0982
Kiko Auctioneers
14567 Lisbon St., Paris OH 44669
(330) 453-9187
(330) 453-1765
Lawson & Company
P.O. Box 327, Danville IN 46122
(317) 745-6405
(317) 745-7810
Long & Foster Realtors
9286 Warwick Blvd., Newport News VA 23607
(757) 727-0069
(757) 643-8890
M. Davis Group
5865 Forbes Avenue, Pittsburgh PA 15217
(412) 521-5751
(412) 521-5754
McCurdy Auction, LLC
519 N Oliver, Wichita KS 67208
(316) 683-0612
(316) 683-8822

Featured Properties

Loading...

McLemore Auctions
45 MdcGinnis Lane, Brush Creek TN 38547
(615) 509-2428
Morris Auction Group
315 North Country Way Drive, Cordova TN 38018
(901) 565-7770
(901) 565-7745
MPPA
2239 Harts Mill Road, Pavo GA 31778
(800) 323-8388
(229) 890-9567
NC Real Auctions
1000 Fate Washington Rd., Stem NC 27581
(919) 616-4217
(919) 528-4564
Ness Bros
10910 US 24 W., Fort Wayne IN 46804
(260) 459-3911
(260) 459-3912
New Horizons Realty
127 Fairview W., Tequesta FL 33469
(561) 262-1578
(561) 748-0078
Pickens Auctions
619 S Lewis, Stillwater OK 74074
(405) 533-2600
(405) 533-1900
Pickens Auctions
P O Box 2212, Stillwater OK 74074
(405) 612-0287
(405) 533-2600
Pro Auctions
624 Brady St., Chesaning MI 48616
(989) 845-1072
(989) 845-2002
Professional Auction Services
15 First St., Berryville VA 22611
(703) 216-6818
(540) 955-0881
Progressive Auction Group
2435 Fitzgerald Industrial Drive, Bowling Green KY 42104
(270) 392-5258
(270) 783-0046
Purple Wave Auction
5853 S Carson St., Carson City NV 89701
(775) 461-0081
(775) 461-0083
Realty Auction Services
5100 Riverbend Ave., Ste. A, Post Falls ID 83854
(208) 640-7449
Realty Of Maine
56 Alan-A-Dale Rd., Brewer ME 04412
(207) 852-5487
(207) 989-2448
Realty One, Inc.
1122 CR 383, Bono AR 72416
(870) 897-2551
(870) 935-2027
Realty World Carolina Properties
P.O. Box 1400 73 Hillsboro St., Pittsboro NC 27312
(919) 545-9911
(919) 545-9406
ReMax Impact
100 W Plum St., OH Westerville 43081
(614) 882-6764
(614) 882-9183
REMAX in Action
5589 Central Ave., Hot Springs AR 71913
(501) 282-6310
(501) 525-1186
Ritchie Bros. Auctioneers
267 Brentwood Dr., Elizabethtown KY 42701
(812) 319-7965
Rowell Auctions
PO Box 3428, Moultrie GA 31776
(229) 985-8388
(229) 890-9567

Featured Properties

Loading...

S.J. Corio Company
22 Dewey Ave., Ste. 6, RI 02886
(401) 738-0400
(401) 738-1507
Schmit Realty
1211 12th Ave., Grafton WI 53024
(262) 377-4668
(262) 377-1114
Schrader
7032 N 400 W., Leesburg IN 46538
(574) 858-2859
(574) 858-9759
Semonin Realtors
3007 Meadowview Circle, Louisville KY 40220
(502) 458-6815
(502) 897-5316
Shane Albright Auctions
241 Lawrence Street, Lawrenceburg TN 38464
(931) 762-5134
(931) 762-4933
South Auctions
12 Highland Ave., Lebanon OH 45036
(513) 535-2020
(513) 932-9988
Sperry Van Ness
1601 Business Center Ct., Ste. 102, Louisville KY 40299
(502) 297-8797
(800) 880-4255
Steffes Auctioneers
24400 MN Hwy 22 S., Litchfield MN 55355
(320) 693-9371
(320) 693-9373
The Auction Team
1610 Hwy 50, Grand Junction CO 81503
(970) 245-1185
The Carlton Group
560 Lexington Ave., New York NY 10022
(212) 545-1000
(212) 661-1295
Tim Ellis Realtors and Auctioneers, Inc.
437 S College Ave., Bloomington IN 47403
(812) 332-0987
(812) 332-4186
TNT Auction
P.O. Box 1429, Roosevelt UT 84066
(801) 330-2399
(435) 722-5102
TNT Auction
495 N 400 E., Bountiful UT 84010-4674
(801) 519-0123
(801) 519-0126
TNT Auction
P.O. Box 16185, Salt Lake City UT 84116
(801) 519-0123
(801) 519-0126
Tranzon Bippus
11811 Anchor Ln., Three Rivers MI 49093
(269) 244-1111
(888) 481-5108
United Country
50 Harvest Hills, Maywood MO 63454
(573) 478-3325
United Country Anders Realty
P O Box 817, Wytheville VA 24382
(276) 228-6949
(276) 228-6703
United Country Supreme Auctions
1810 W. Northern Ave., Ste. A-9, #327, Phoenix AZ 85021
(623) 910-7518
(623) 298-5648
United Country-Coffey Realty & Auction
6391 S Old State Rd. 37, Bloomington IN 47401
(812) 824-6000
(812) 824-6090
Williams & Williams
7120 S Lewis Ave. #200, Tulsa OK 74136
(918) 250-2012
(918) 217-6441